King Presents 5th World Interfaith Harmony Week Award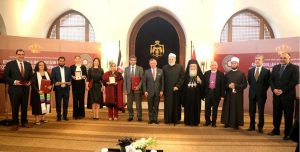 His Majesty King Abdullah poses for a group photo with recepients of the 'King Abdullah II of Jordan Prize for World Interfaith Harmony Week 2017' at Al Husseiniya Palace on Sunday (Photo courtesy of the Royal Court)
AMMAN — His Majesty King Abdullah on Sunday presented the "King Abdullah II of Jordan Prize for World Interfaith Harmony Week 2017", according to a Royal Court statement.
Given in appreciation of efforts to boost coexistence among followers of different religions, the prize was proposed by His Majesty at the UN General Assembly's 65th session and adopted unanimously in October 2010, the statement said.
During the ceremony held at Al Husseiniya Palace, the King presented certificates and medals to the prize winners, according to a Royal Court statement.
HRH Prince Ghazi, the King's personal envoy and adviser for religious and cultural affairs, delivered a speech in which he noted that the award, now in its fifth year, aims to encourage coexistence among followers of different religions, while thanking King Abdullah for launching it.
The Royal Aal al-Bayt Institute for Islamic Thought established the award in recognition of three activities or publications that best contribute to the promotion of the World Interfaith Harmony Week, adopted by the UN (PV/65/a.34) resolution.
The week is marked annually in the first week of February.
This year's first place winner was the Calgary Interfaith Council from Canada, while second place was awarded to the International Forum Bosnia's Centre for Interfaith Dialogue in Bosnia and Herzegovina, in recognition of their 2017 programme to celebrate interfaith dialogue.
The third prize went to the British PL84U AL-SUFFA organisation in appreciation of its efforts to provide meals, shelter and company to the elderly, regardless of religious backgrounds, on the first and third Sundays of every month.
The World Interfaith Harmony Week is an annual platform to spread awareness and understanding among followers of different religions through activities and events.
The interfaith week was inspired by the work of the Common Word initiative launched in 2007, which called for Muslim and Christian scholars to engage in constructive dialogue based on shared values including the love of God, the love of one's neighbour without religious prejudice and the strengthening of shared ideological religious grounds, as these two messages are considered to be at the heart of all major religions.
The ceremony was attended by Royal Court Chief Fayez Tarawneh, King's Office Director Jafar Hassan and several senior Muslim and Christian scholars.
http://www.jordantimes.com/news/local/king-presents-5th-world-interfaith-harmony-award