The judges received 63 applications for the prize from the 409 events held in total. They were highly appreciative of all the efforts of all those who held events and applied for the prize. They wish they could reward all who held an event but are consoled by the fact that good deeds are their own reward so that everyone who held an event—whether they applied for the prize or not—is a true winner.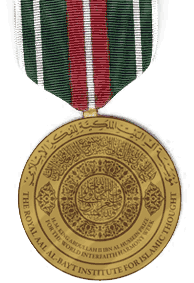 In judging, the judges were mindful particularly of those who had the courage to hold events in areas marked by recent interfaith tension or conflicts. They took into consideration efforts made despite scantiness of resources, but also took into consideration the excellence of efforts. They further took into consideration whether events were consistent with the text of the U.N. Resolution establishing the Prize. Accordingly, judges did not reward movements towards religious syncretism but rather rewarded events which respected each religion as it is. Finally, in accordance with the terms of the Prize, judges rewarded events specifically celebrating the World Interfaith Harmony Week rather than good interfaith work in general. Accordingly, the judges are delighted to announce:
United Nations Interfaith Harmony Partners – Zamboanga – Silsilah Dialogue Movement: $25,000 Grand Prize and a gold medal will be awarded to the United Nations Interfaith Harmony partners, Zamboanga for their week-long celebration of the 3rd World Interfaith Harmony Week in Zamboanga City, Philippines. Pictured are volunteers donating blood at the Western Mindanao State University campus.
Saeed Khan Falahi (alias Mohd. Abdul Saeed Khan), Mohalla Mehmand-Jangla, Centre for Peace & Human Rights, Shahjahanpur, Uttar-Pradesh, India: $15,000 Prize and a silver medal will be awarded to the Centre for Peace & Human Rights for their event 'An ordinary step for ensuring extraordinary peace' in Uttar-Pradesh, India. Pictured are children who attended the event.
Gamal Farghaly Sultan Secondary School for Boys, Asyut, Egypt: $5,000 Prize and a bronze medal will be awarded to the Gamal Farghaly Sultan Secondary School for Boys for their event 'Peace without Prejudice' in Egypt.
Faiths Together Uganda, Uganda: $5,000 Prize and a bronze medal will be awarded to Faiths Together Uganda for their gathering at the Goma Health Center III in Uganda.
The prize-giving ceremony will take place in April 2014 in the Hashemite Kingdom of Jordan.
The following two runners-up will also be sent certificates of 'honourable mention':
First Honourable Mention: A certificate will be awarded to Interfaith Dialogue, The Motor, Driving New Synergies for Harmony, Belgium.
Second Honourable Mention: A certificate will be awarded to URI – World Interfaith Harmony Week.

All Praise belongs to God Alone.

The Judges

HRH Princess Areej Ghazi
HB Patriarch Theophilus III – Patriarch of the Holy City, Palestine and Jordan
HE Sheikh Dr Ali Gomaa – former Grand Mufti of the Arab Republic of Egypt
HE Bishop Munib Yunan – Bishop of the Evangelical Lutheran Church in Jordan and the Holy Land, and President of the World Federation of Evangelical Lutheran Churches
Sheikh Usama al-Sayyid Al-Azhari – Professor at Al-Azhar University
Father Nabil Haddad – Founder and Executive Director of the Jordanian Interfaith Coexistence Research Centre
Dr Minwer Al-Mheid – Director of the Royal Aal Al-Bayt Institute for Islamic Thought