PM meets religious leaders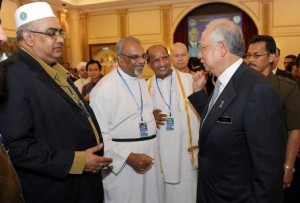 BERNAMA
PUTRAJAYA: Efforts to promote understanding and awareness through discussion, dialogue and also education are important so that the public understands clearly the differences and similarities between the various races in the country, said Prime Minister Datuk Seri Najib Tun Razak.
Prime Minister Datuk Seri Najib Tun Razak meets religious leaders in conjuction with "World Interfaith Harmony Week" at Seri Perdana, in Putrajaya today. — Bernama picture
1 / 1
He said the people should not be confused with what constituted cultural and religious beliefs.
He cited as an example his attendance at the Thaipusam celebration in Batu Caves recently, which according to him had been questioned by some quarters because he wore the 'kurta', a traditional Indian attire for men.
"But they are not aware that in India, millions of Indians who are Muslims wear the kurta daily. Are they then not Muslims," he said.
He said this when addressing a gathering of religious leaders in conjunction with "World Interfaith Harmony Week 2012" at at his official residence Seri Perdana here today.
Najib then gave the example of the attire usually worn by Malaysian Chinese Muslims Association (MACMA) president Datuk Mustapha Ma, which according to him, had Chinese cultural elements and should not be linked to the question of faith.
"He is a seventh-generation Muslim. This is a question of culture and not faith, thus if issues like this if we don't understand, it could lead to suspicion and hatred among the races.
"As such, it is incumbent upon the committee tasked with interfaith understanding to clarify such matters," he said.
Najib also said with the rapid advancements in information technology, whatever was said by anyone could spread like wildfire, causing the world we are in today to face a more challenging environment and requiring more efforts to promote understanding and awareneness on a continuous basis.
He said Malaysia appreciated the harmony and prosperity enjoyed all this while, which was possible because of its moderate policies that were very much in line with Islamic teachings.
"Although before this, we have not used the word 'Wasatiyyah' (moderation in Arabic), actually our policies have been based on the wasatiyah concept as called for by Islam. It (wasatiyyah) also touches on the aspect of respecting those of other faiths," he added.
According to him, the teachings of other faiths in principle also promoted moderation, through conduct and words said.
Najib said "World Interfaith Harmony Week" sought to raise awareness and understanding between religions, for universal peace and drive the world to be more progressive and prosperous.
He said coincidentally, the first week of February was rather unique with three events taking place that were very meaningful to Malaysia, which were Prophet Muhammad's birthday celebration and the Chap Goh Mei and Thaipusam celebrations.
"As such, if there is a country which wants to showcase itself as a model of multiracial unity, I don't think there is a country better than Malaysia," he said.
The "World Interfaith Harmony Week" is the brainchild of King Abdullah II of Jodan and his son Ghazi Muhammad who was the personal representative and advisor to King Abdullah II at the 65th United Nations General Assembly (UNGA) in New York in 2010. The idea was adopted as a resolution by UNGA and is celebrated the first week of February by the member nations. —