Muhyiddin: Respect for one another should begin in school
Posted on February 22, 2012, Wednesday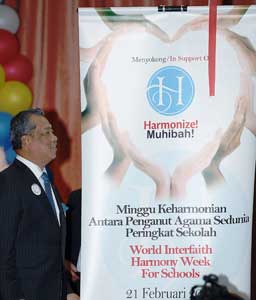 LAUNCHING: Muhyiddin launching the school-level World Interfaith Harmony Week at SMK (P) Sri Aman in Petaling Jaya. — Bernama photo
PETALING JAYA: Deputy Prime Minister Tan Sri Muhyiddin Yassin said the move to instill a deeper understanding on the importance of respect for one another, although from different religions, should begin from school.
He said the country would be stronger when the people no longer see the differences among them.
Muhyiddin, who is also Education Minister, said the move would enable educationists, teachers, parents and students, to place greater importance on avoiding the sensitivities of the other communities.
"On the other hand, we respect our diversity and accept it as a valuable heritage which cannot be found in other countries," he said when launching the school-level World Interfaith Harmony Week at SMK (P) Sri Aman, here yesterday.
Also present were Minister in the Prime Minister's Department Tan Sri Dr Koh Tsu Koon, and Education director-general Datuk Seri Abdul Ghafar Mahmud.
Muhyiddin said various programmes and activities aimed at inculcating the spirit of cooperation, as well as tolerance and acceptance for the diversity in religion, culture and race, could be implemented at the school level.
He said the rapid progress achieved by the country today was a result of cooperation among the people of various races, religions and culture who accepted these differences as something special.
As citizens of Malaysia under the 1Malaysia concept, he said, they should be grateful for the understanding and respect for one another that existed among them. — Bernama