KAICIID FELLOWS PROMOTE WORLD INTERFAITH HARMONY

This week marks the 10th anniversary of United Nations World Interfaith Harmony Week, which recognises that interreligious dialogue and mutual understanding are vital to building a culture of peace. KAICIID is deeply committed to the promotion of harmony between people of all faiths and religious traditions in all aspects of our work, including through our Fellows programme which has trained nearly 300 leaders worldwide. In honour of World Interfaith Harmony Week, we take a closer look at a Fellows initiative in our host city of Vienna, Austria.
When Cirilo Boloron and Elisabeth Palugyay met through KAICIID's International Fellows Programme, they immediately connected over their desire to support Vienna's influx of refugees and migrants.
Fast population growth in the city of Vienna has been linked to the city's history of international migration, with long-standing migrant communities representing half of the population, according to reports by the OECD.
Additionally, between 2015-2018, Austria received an unprecedented number of people seeking refuge from conflict.
"Vienna is a multicultural society. There are a lot of groups coming from different cultures and countries", Boloron said.
The Fellows programme provided the perfect catalyst for Palugyay and Boloron's collaboration. As part of the one-year training programme, KAICIID provides Fellows with small grants to implement initiatives which address real-world challenges and are tailored to the needs of their institutions and communities.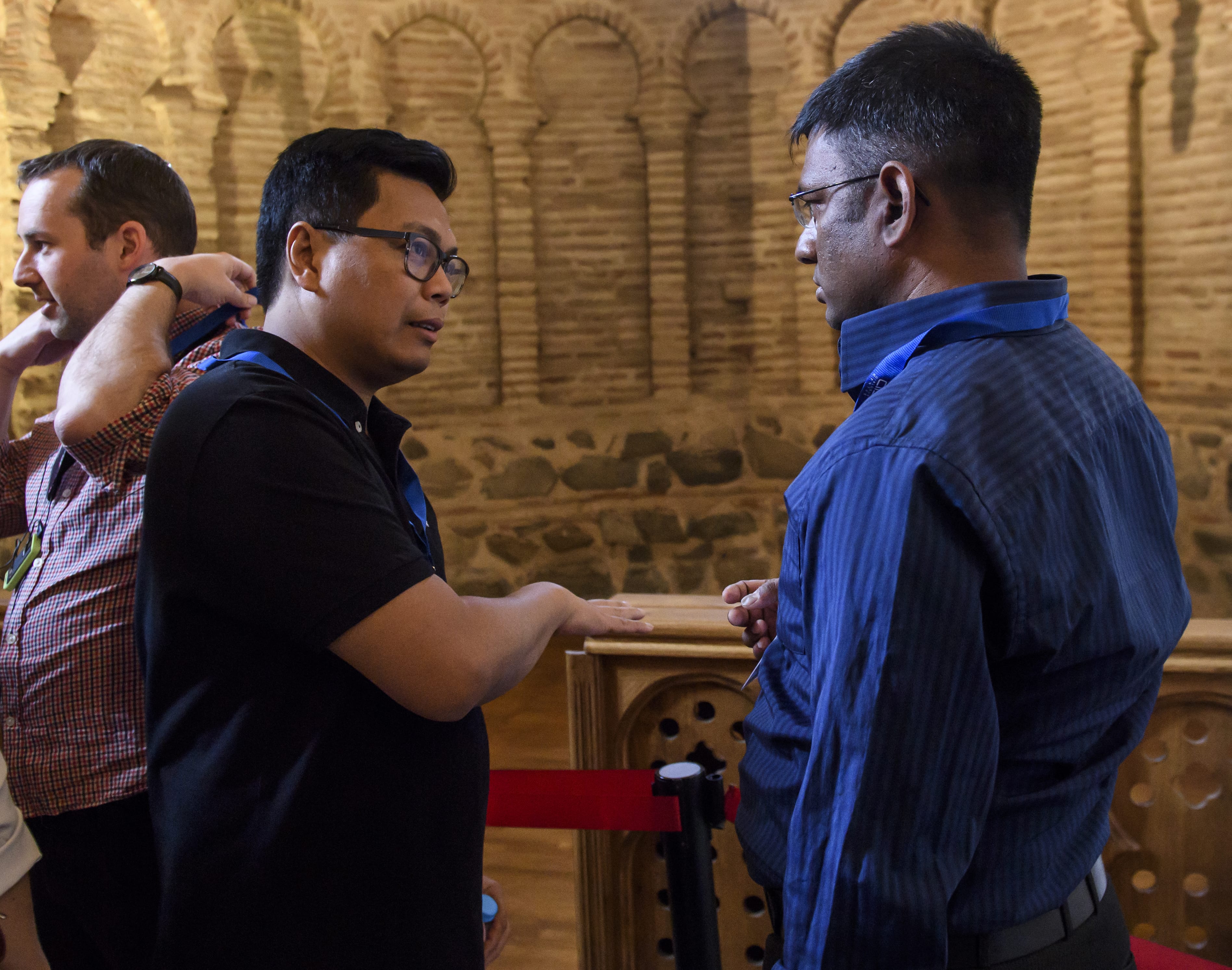 In 2019, Boloron (pictured left) and Palugyay met through KAICIID's International Fellows programme, taking part in interreligious dialogue trainings and visiting diverse houses of worship. 
For Boloron and Palugyay, the most pressing challenge in their local city of Vienna, Austria, was integration.
"Between 2015-2017 there was a huge amount of people arriving and we needed to provide help and shelter in a very short time. Now that their basic needs have been met and they have residence permits, our goal is to further their long-term integration process by fostering intercultural understanding. " Palugyay said.
Launching a series of community dialogue projects, the two Fellows met with newly arrived young people, hoping to help bridge some of the differences and address their hopes and fears for integration.
"When I was thinking about my project initiative, I said I have to go back to the grassroots, to my community. My plan to organize an interreligious dialogue group for youth is because I see the need at an early age to be aware of and have an experience about dialogue", Boloron said.
Boloron and Palugyay say their collaboration is also an example of how different origins, ethnicities and backgrounds can work together to promote dialogue and mutual respect. Originally from the Philippines, Boloron works as a Pastoral Assistant for the Archdiocese of Vienna. Palugyay is a native of Vienna and has a background in migration and humanitarian aid, having previously worked for the Austrian Red Cross.
"We bring together two different aspects. He is based in a religious community in one of the most diverse districts in Vienna. I have a background in humanitarian work. We both have the interest in working with youth and bringing young people together across traditional, religious or cultural boundaries", Palugyay said.
Boloron and Palugyay say that interreligious dialogue has proved vital to ensuring effective integration and that people from different cultures and backgrounds feel heard and understood.
"We give them the opportunity to get out of their own world hoping there will be cooperation and a deeper understanding," Boloron said. "And in that way, we somehow, in our own little way promote harmony and peace."