Embrace harmony, shun discrimination
— urges President at launch of World Interfaith Harmony Week
THE United Nations (UN) this week commemorates 'World Interfaith Harmony Week' and local religious organisations have stepped up Government's campaign geared at 'fostering Social Cohesion in Guyana.'Support for interfaith harmony was evident Wednesday when Guyanese from various religious and ethnic backgrounds assembled at the Umana Yana, Kingston, Georgetown, to celebrate the occasion.
Addressing the occasion, President David Granger said social cohesion is an important part of his Government and an entire ministry has been dedicated to it.
"Its importance to remove discrimination on the basis of gender, on the basis of geography… women were elevated to the dignity of Senior Counsel for the first time in 50 years [and], last year for the first time an equal number of women received the Golden Arrow of Achievement to those of men. Guyana declared itself to be a Cooperative State," President Granger said.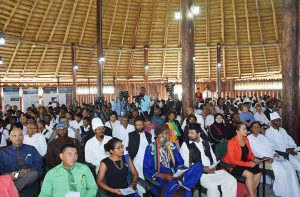 Interfaith harmony is promoted to encourage a culture of cooperation to combat human conflict.
"Interfaith harmony advances through dialogue; dialogue in turn promotes understanding, understanding in turn generates cooperation, cooperation facilitates the dismantling of the barriers of domination and distrust. And that domination and that distrust can generate human conflict," Mr Granger noted.
World Interfaith Harmony Week came into being with the signing of a UN General Assembly Resolution on October 20, 2010, to support on a voluntary basis the spread of the message of interfaith harmony and goodwill in the world's churches, mosques, synagogues, temples and other places of worship.
"Guyana is a model of interfaith harmony," Mr Granger said, adding that "Guyana is a cosmopolitan State in which the majority of people belong to one of the world's major religions – Christianity, Islam and Hinduism."
Guyana's Constitution pursues on purpose the promotion of peaceful co-existence, and Guyana is not known for religious violence or conflict, despite ethnic differences.
"Guyana is a model of interfaith harmony. The religious diversity which we enjoy has never degenerated into [violence and conflict]. This is not an accident. Policies have been purposefully pursued to promote peaceful co-existence," the President said, pointing out that harmony of religions is key in ensuring a cohesive state.
With the local theme of World Interfaith Harmony Week being 'Fostering Social Cohesion in Guyana', the president said social cohesion is vital in combating exclusion and marginalisation, creating a sense of belonging and promoting upward mobility.