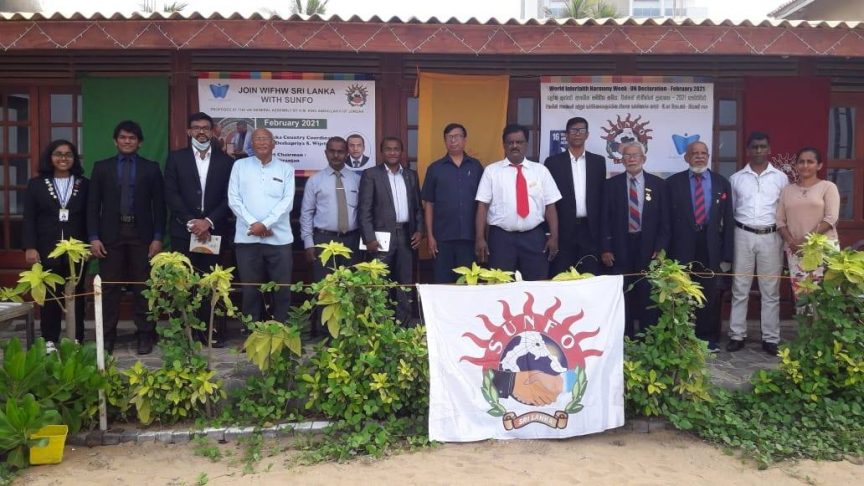 Interfaith harmony Campaign Team inducted and inauguration in Sri Lanka
Country: Sri Lanka
City: MountLavinia
Organizer

Dr.Deshapriya S. Wijetunge

Location

20,KMV Road, Lakshapathiya,Moratuwa 10400

Email
IFHW 2021 Sri Lanka Launched :
A special launching event organized by Ambassador of Peace Dr.Deshapriya S. Wijetunge -Director General SUNFO to induct National Advisory Committee to introduce, promote facilitate and recognize Interfaith Harmony actions in Sri Lanka from Jan 30 to Feb 28, 2021.
Event started by honouring the National Anthem of Sri Lanka. Then
One minute Silence to remember all Past SUNFO Officials, Members & Volunteers as well as all Interfaith Harmony Peace leaders in the world followed with Multi-Religious observances – Silence prayers and meditations
Welcome Speech delivered by Lion T.Niranjan SFSUNFO (IFHW-Sri Lanka 2021 SUNFO Project Chairman )
Theme speech presented by Dr.Deshapriya S. Wijetunge –Director General-SUNFO explained the background of the event and past actions in 2019 & 2020.
Then officially launched IFHW 2021 National Advisory Committee in Sri Lanka
Honorary Chairman: Lion T.Niranjan SFSUNFO
and Honorary National Advisors in presence
• SDD Governor Lion Dr.M.Reginolld. PMJF MAF CLMSUNFO
• Mr. B. Clarence Mendis HFSUNFO
• Dr.M.G.M.Rizvi
• Dr.M.G.M.Zurfic
• Samashuree Dr. K. Upul P. Fernando
• Lion Alfred Christy Emmanuel MJF SFSUNFO and
In absence Mr.Saman Senevirathna, SDD Governor Hon. Kanapathy Kanaharaj SSFSUNFO, Lion Cornelius Rajendram SFSUNFO & SDD Governor Lion Aloma Kaluaratchie MJF MAF SSFSUNFO
Then all congratulated for the National Committee at Mount Lavinia Beach- Sri Lanka.