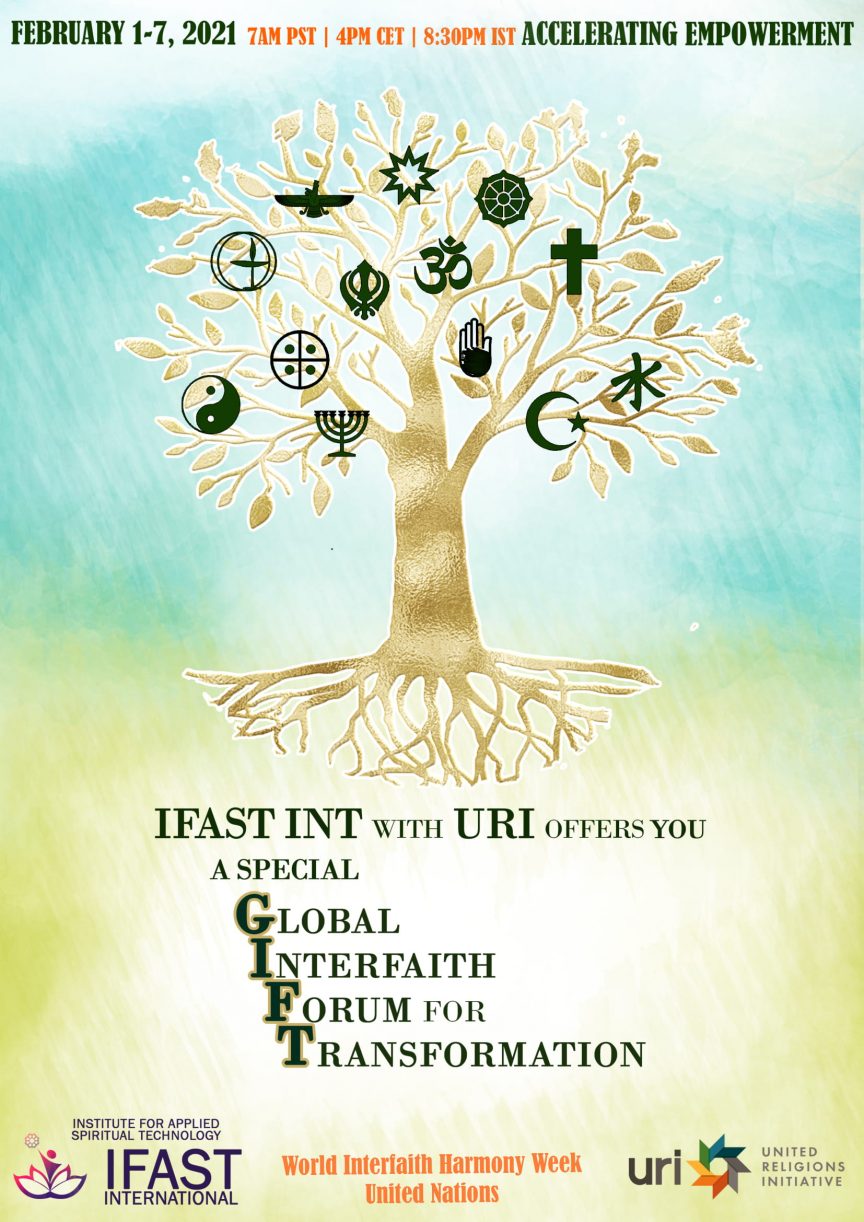 Global Interfaith Forum for Transformation
Country: United States
City: zoom
Organizer

URI and IFAST Int

Location

online

Email
On behalf of the
United Religious Initiative
(URI) and the
Institute for Applied Spiritual Technology International
(IFAST Int), we are inviting you to attend the
Global Interfaith Forum for Transformation
(GIFT). The core topic of this event will be
"?pplied Spiritual Technology"
, which can become a practical solution to various challenges the world is currently facing. During the forum we will discuss how we can successfully apply Spiritual Technology in the following areas: Feb 1st: Community building Feb 2nd: Education Feb 3rd: Peace building conflict transformation Feb 4th: Interfaith dialogue Feb 5th: Family Feb 6th: Youth Feb 7th: Summary and conclusion We believe that this Forum will give you an opportunity to:
Share your personal successes and challenges with prominent leaders,
Network with like-minded people,
Establish powerful connections with influential groups.
Each day of the forum will start with a
panel discussion
led by world renowned experts and leaders, followed by
smaller group discussions
. Our speakers and participants range from
philosophers and spiritual leaders to businessmen and school principals that have profound interfaith and professional experience
. Please see the forum schedule and the list of all panelist here:
SCHEDULE
We are looking forward to your participation at the GIFT. February 1st to 7th, 2021 7am PST | 10am EST| 4pm CET | 8:30pm IST Please join our
GIFT Telegram Channel
to get the zoom link for the forum or fill out the registration form
here
and we will send you the link via email.
WHAT IS APPLIED SPIRITUAL TECHNOLOGY? - WATCH A VIDEO