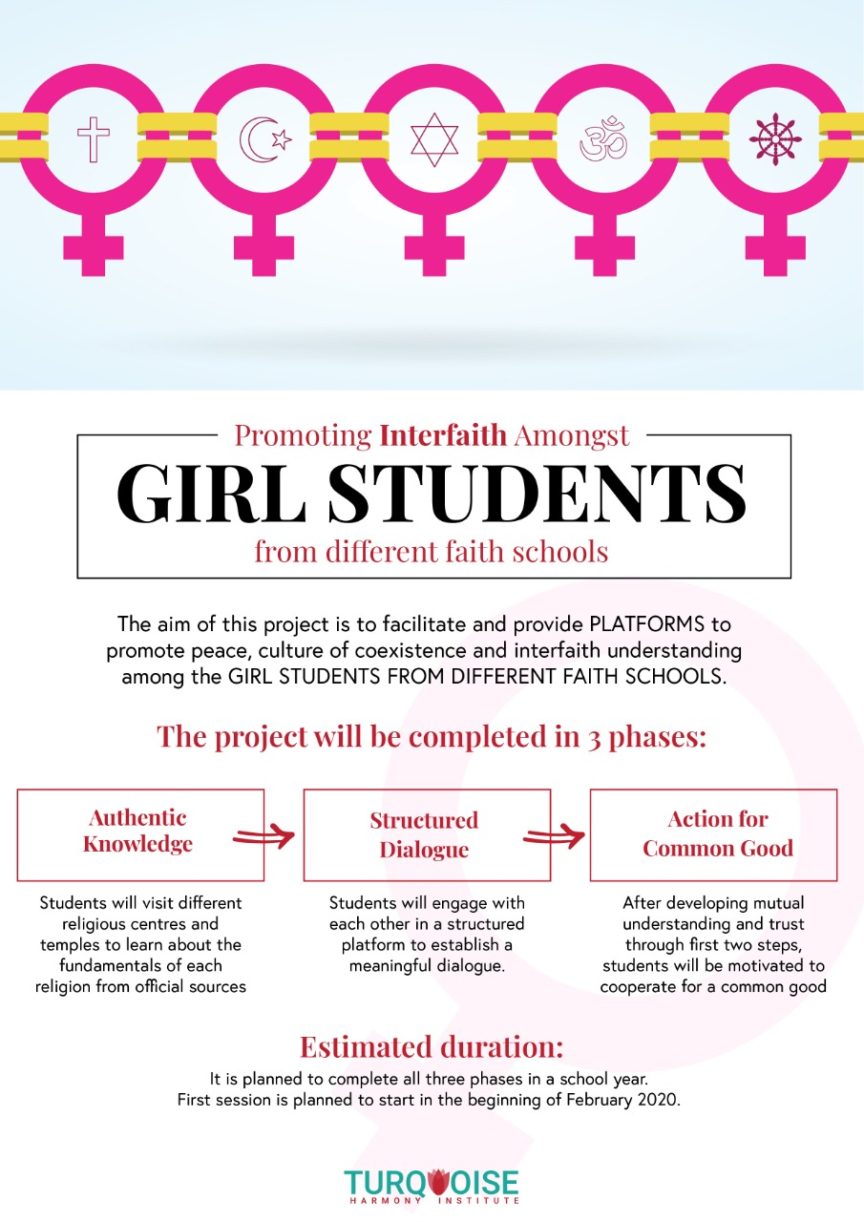 Establishing & sustaining peace, the culture of coexistence and mutual understanding through structured interfaith dialogue and interfaith activities among girl students from different faith schools in Johannesburg.
Country: South Africa
City: Johannesburg
Organizer

Turquoise Harmony Institute

Location

46 Wingfield Avenue Birdhaven

Email
The aim of this project is to facilitate and provide PLATFORMS to promote peace, culture of coexistence and interfaith understanding among the GIRL STUDENTS FROM DIFFERENT FAITH SCHOOLS. Through this project we aim; 
To cultivate the spirit of understanding and appreciation of the "other" and the culture of empathy.
To seek effective methods for the education of the young generations to make them understand the importance of some essential values  such as dialogue, love, mutual understanding and respect which play vital role in social cohesion.
To inculcate our youth how to respond positively to the rise of global dynamics vis-à-vis local identities and cultural richness.
To generate a platform for discussions and interactions on the modern human condition, where we face many questions about how we can live together in peace.
To seek how cultural richness and coexistence experience of South Africa , particularly concept of Ubuntu, can be shared and promoted  in other parts of the World.
To seek methods that can be implemented to achieve tangible results out of theoretical discussions and good wishes uttered which can assist to establish a sustainable and genuine culture of coexistence and mutual understanding in South Africa.
·     To motivate, organise, guide and give chance to youth from different religious backgrounds to participate in this project so that they can act together to prepare their own futuristic environment where they can practice and develop the culture of coexistence and mutual understanding better and more effective.
D. STRUCTURE 
The project will be completed in three phases.
1- Authentic Knowledge
Students will visit different religious centres and temples to learn about the fundamentals of each religion from the official sources. Hence they will have accurate information which will help them to understand each religion better and it may help students to question any prejudices and misinformation they have.
2- Structured Dialogue 
Students will engage with each other in a structured platform to establish a meaningful dialogue. A topic, such as compassion in different faiths, will be chosen and each group will be asked to talk about it through their religions' perspective. We believe in this way mutual understanding  will  be developed. Students will realise that they have more similarities than differences. It will also help students to understand not only other religions but also their own religions.
3- Action for Common Good
After developing mutual understanding and trust through first two steps, students will be motivated to cooperate for a common good, it can be any project to assist needy people or an environmental project and to show that even though we are different we can work together for the betterment of our fellow human being and our environment.